Tokyo 2020 Olympic and Paralympic ART Exhibition - The Olympics and Paralympics we envision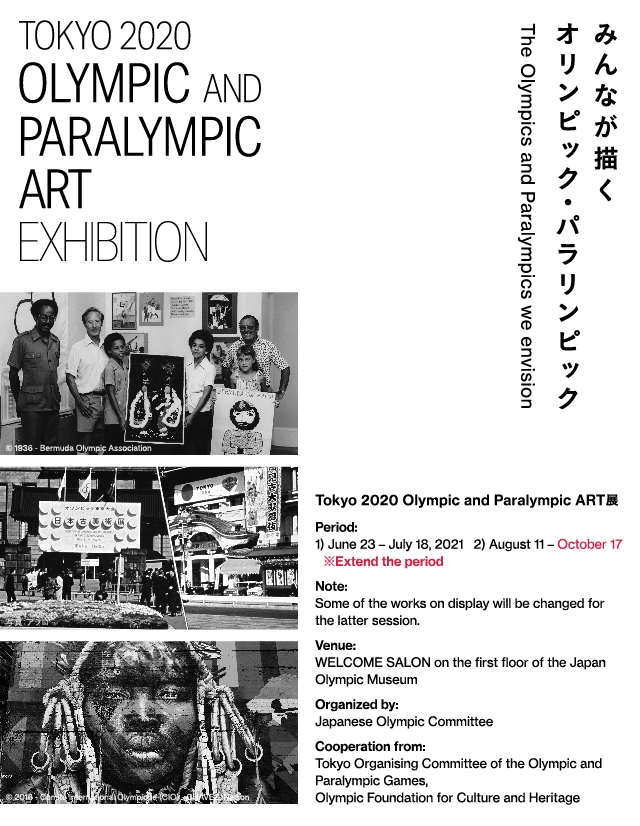 "The Olympics and art are closely related in order to enhance mutual understanding of our diverse cultures and create the modern Olympic spirit of building a peaceful world."
This idea advocated by Pierre de Coubertin, founder of the modern Olympics, took form in art competitions themed on sports from the 1912 Stockholm Games to the 1948 London Games. The event has been passed down under a different name and style in the form of an art exhibition held at the 1964 Tokyo Olympics and cultural programs introducing art and culture of the host countries and cities in recent years.
Featuring the Tokyo 2020 Games from the perspective of the Olympics and art, the upcoming exhibition showcases the Olympic and Paralympic Games that we envision. Artworks created by artists, children and athletes from Japan and overseas will be on display.
Venue: WELCOME SALON on the first floor of the Japan Olympic Museum
Period: 1) June 23 – July 18, 2021
2) August 11 –
October 3
October 17 ※Extend the period
Note: Some of the works on display will be changed for the latter session.
Organized by: Japanese Olympic Committee
Cooperation from: Tokyo Organising Committee of the Olympic and Paralympic Games, Olympic Foundation for Culture and Heritage